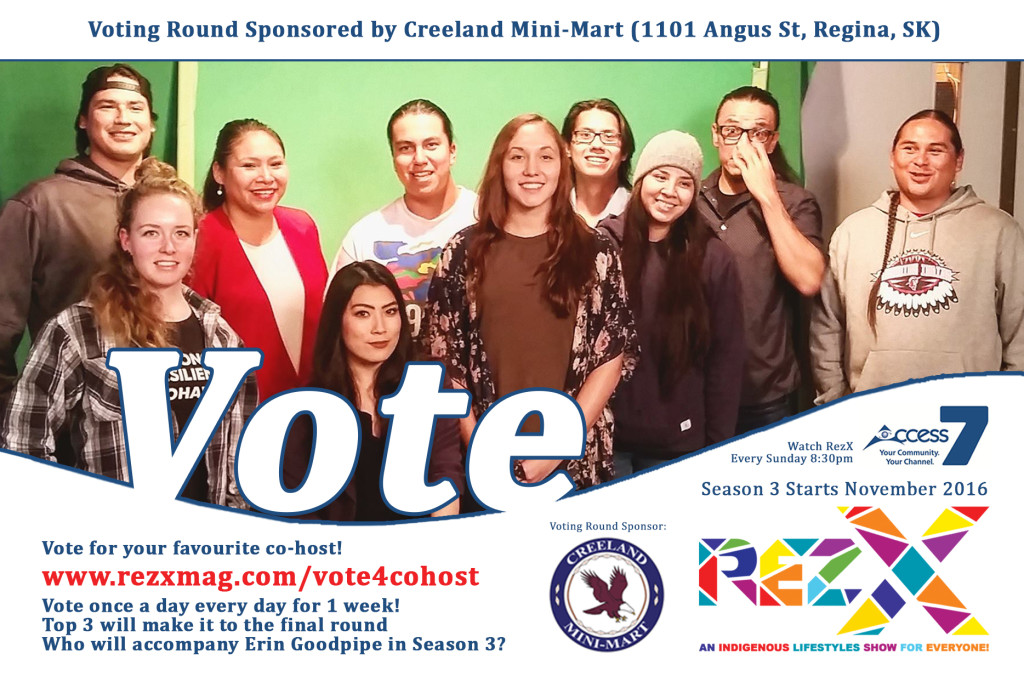 The Voting Round has closed and the Top 3 has been revealed as potential new co-hosts of RezX TV. But only one of them will be chosen to accompany Erin Goodpipe every week on RezX which is aired on Access7 in 104 communities in Saskatchewan.
RezX would like to congratulate the Top3 who will be invited to a final round of auditions; 1. Austin Thomson (509 Votes, 44.73%) 2. Harley Upton (202 Votes, 17.75%) 3. Misty Kay (144 Votes, 12.65%).
Producers of RezX will also invite one additional person who didn't make the Top 3. Final auditions will be taped for the Season Premier Episode of RezX, which is now set to begin in December 2016 on Access7. We would also like to acknowledge those who didn't make the top 3, as it takes a lot of guts to put yourself out there, so congrats to you.
Season 3 will look a lot different than previous seasons, with a new set design concept being planned featuring a talk show segment, music segments, feature short documentaries and more new faces. RezX will also be making a huge announcement in the coming weeks, so stay tuned for that!
Below is the voting results of the seven people who auditioned for the "co-host role" in order from No.1 – 7.
We would like to thank everyone for participating and thank our voting round sponsor, Creeland Mini-Mart (1101 Angus Street, Regina, SK).
Please visit our sponsor; Creeland Mini-Mart Located at 1101 Angus Street, Regina, SK